• banaras • Kashi • Kashi Vishwanath • varanasi • Varanasitravel
Vishvanatha or Vishveshwara is known throughout India and the world. Though he is counted among the 12 jyotirlingas, his reputation goes beyond that, because of his connection with Kashi.
From morning to evening, people throng to the temple in their thousands to pay their obeisance. When one gets into the crowd, surely there is no way to avoid irritation. All that shouting, all that chattering, the entire space reeks of sweat, but when one gets to have darshan of Vishvanatha for those few moments it feels as if these vanish and there arises a feeling as if he is there just for us.
This experience is not individual. But every pilgrim feels such emotions on entering the sanctum at Vishveshwara.
---
• banaras • Banares • Benares • Bunaras • Bunares • ganga • ganges • Kashi • Kashi Vishwanath • varanasi • Varanasitravel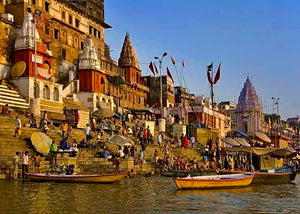 गंगा विश्वेश्वरः काशी जागर्ति त्रितयं यतः।
तत्र नैः श्रेयसी लक्ष्मीर्लभतेचित्रमत्र किम्॥
"Ganga, Vishwanatha and Kashi. This trinity is present there. No wonder the people have wealth of all kinds while they live and liberation at their death."

                                                                                        Kashi Khanda 35.10