• banaras • Kashi • Kashi Vishwanath • varanasi • Varanasitravel
Vishvanatha or Vishveshwara is known throughout India and the world. Though he is counted among the 12 jyotirlingas, his reputation goes beyond that, because of his connection with Kashi.
From morning to evening, people throng to the temple in their thousands to pay their obeisance. When one gets into the crowd, surely there is no way to avoid irritation. All that shouting, all that chattering, the entire space reeks of sweat, but when one gets to have darshan of Vishvanatha for those few moments it feels as if these vanish and there arises a feeling as if he is there just for us.
This experience is not individual. But every pilgrim feels such emotions on entering the sanctum at Vishveshwara.
---
• banaras • Banares • Benares • Bunaras • Bunares • ganga • ganges • Kashi • Kashi Vishwanath • varanasi • Varanasitravel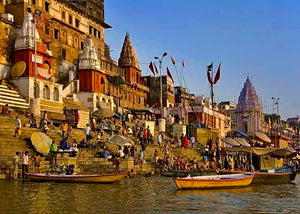 गंगा विश्वेश्वरः काशी जागर्ति त्रितयं यतः।
तत्र नैः श्रेयसी लक्ष्मीर्लभतेचित्रमत्र किम्॥
"Ganga, Vishwanatha and Kashi. This trinity is present there. No wonder the people have wealth of all kinds while they live and liberation at their death."

                                                                                        Kashi Khanda 35.10
---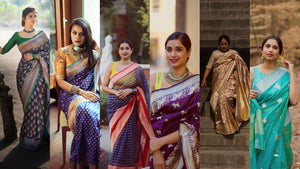 Why do I talk about sarees all the time?  Because for me, a saree is synonymous with elegance and grace. They are magic! This nine-yard staple is a magic wand that can transform you into a graceful bride, a trendy teenager out for the day or an all-time glamour diva  And when you wear a saree, it completely redefines you from a regular woman into a true 'woman of substance' (at least in my eyes). Their versatility is what makes them timeless and one of the season's favorites. Whether it is festivals, marriages, or celebrations, sarees are timeless. With...
---
Valentine's Day is right around the corner, and with February being the month of love, what could be more fitting than to surprise your significant other in an Indian outfit? We all love to wear clothes that make us look good, but there is no denying that sarees are the epitome of style and grace.  Sarees are a wonderful addition to Valentine's Day outfits, especially for women who adore wearing them.  When a man sees his partner wearing a Western outfit, he might appreciate it at first. But, it is the sight of her in a saree that truly melts...
---
Navami - SpeechSpeech has always remained the most preferred medium of communication in the natural world and the human world. The humans alone have thousands of languages. The animal world has so many that it is impossible to count them. We have invented various scripts, various codes and many more kinds of media of conversation, yet we have not stopped speaking. Every day new words are created, old words are forgotten and new dialects are created, old dialects are lost. But we have not stopped speaking. So many letters have been posted and so many emails have been sent, but...